Experience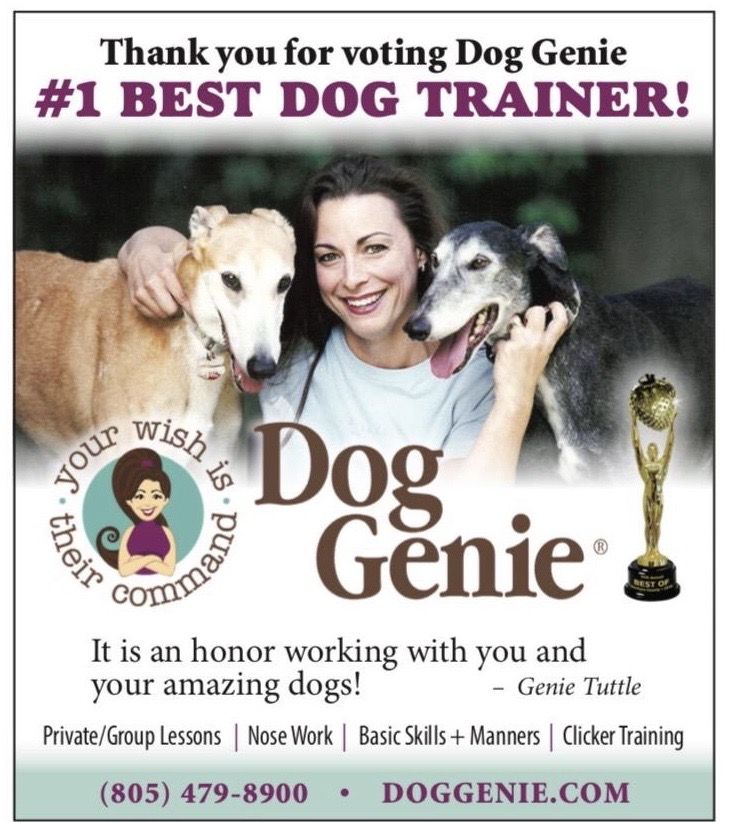 Genie Tuttle is a Certified Professional Dog Trainer-Knowledge Assessed (CPDT-KA), a Certified Nose Work Instructor (CNWI) a Full Member Dog Training Professional recognized by the Pet Professional Guild (PPG), the Association for Force-free Pet Professionals and a Professional Member of the Association of Pet Dog Trainers (APDT). Genie has a Bachelor's degree in Communication from California State University, Northridge and has been training dogs of all breeds for more than 25 years. She was recently voted #1 Best Dog Trainer in Ventura County by a reader survey in the Ventura County Reporter.
A lifelong dog lover, she has worked for private training companies, Parks and Recreation departments and a national pet supply retailer prior to launching her own business, Dog Genie in 2003. Dog Genie is a training company specializing in teaching people how to successfully use positive communication techniques with their dogs for a lifetime of happiness and understanding. Genie teaches all kinds of fun and positive ways to train and communicate with dogs via group classes and private lessons including: basic/intermediate/advanced skills & manners, behavioral modification, clicker training, K9 Nose Work, tricks and more – in and around Ventura County, California. Her background is in Corporate Communications, Public Relations, Marketing Operations, Fundraising and Event Planning. She is also a blogger for the world renowned positive dog training website established by Dr. Ian Dunbar, Dog Star Daily www.dogstardaily.com. Genie is also the first Certified Dognition Evaluator in California, joining Dr. Brian Hare's team of citizen researchers at Duke University, see www.dognition.com. In an effort to promote positive dog training techniques and to help educate and train more positive dog trainers, Genie is also a mentor trainer for the Animal Behavior College. In 2015, as a lifelong shelter dog advocate, Genie launched two successful enrichment programs (K9 Nose Work® for Shelter Dogs and Clicker Training for Shelter Dogs) at Ventura County Animal Services, California's largest municipal open-admission "No Kill" shelter.
Genie has been a greyhound owner since 1993 and serves on the Board of Directors for Homestretch Greyhound Rescue & Adoption, an official 501(c)(3) charity located in Fillmore, California where she serves as the Director of Media Relations and Training.
How to Choose a Qualified Dog Trainer:
The ASPCA recommends that dog owners investigate the education and credentials of the person they plan to hire and recommends  hiring a dog trainer with the independently earned Certified Professional Dog Trainer (CPDT) credential.
In the United States, dog training is an unregulated industry and anyone can print business cards and say they are a "dog trainer" with little to no actual relevant education about the science of learning theory or the humane hierarchy of protocols. That is dangerous for dogs.  For this reason, world renowned veterinary behaviorist Dr. Ian Dunbar and many of his colleagues in the industry got together and put standards around an independent credential system to educate and qualify dog trainers.  Dr. Dunbar and colleagues formed the Association of Professional Dog Trainers from which the hard to achieve independent certification "Certified Professional Dog Trainer" (CPDT ) resulted, in conjunction with the Certification Counsel for Professional Dog Trainers.  This credential takes several years to achieve and to keep it current, dog trainers must participate in continuing education, earn CEUs and study with leaders in the field of positive, educated, humane dog training techniques. Genie has held the CPDT title since 2006.
Genie Tuttle, CPDT, CNWI can be reached at: genie@doggenie.com or www.doggenie.com
Education
Genie has a Bachelor of Arts degree in Speech Communication from California State University Northridge.   

 

Continuing Education:

May 2019 – Susan Friedman, Ph.D Living & Learning with Animals

March 10, 2019 – Amy Herot – Dogs in Odor: Painting the Scent Picture"

Feb 17, 2019 – Jill Marie Obrien – NACSW Continuing Education for CNWI Credential Instructor Course

July 21, 2018 – Jill Marie Obrien  – K9 Nose Work® Summer Series Advanced Hide Placement and More

November 2017 – Turid Rugaas – Canine Body Language, Health & Stress, Calming Signals, the Affect of Pain on Behavior

April 2017 IAABC Conference – "The Learning Planet" Dr. Susan Friedman

April 2017 IAABC Conference- "Desensitization and Counter Conditioning" – Dr. Christopher Pachel, DVM, DACVB

April 2017 IAABC Conference -"The Effects of Fear, Anxiety and Arousal on Learning" – Dr. Christopher Pachel, DVM, DACVB

April 2017 IAABC Conference – 'Why Do Wolves Hunt Sheep While Dogs Herd Them?" – Kathryn Lord, PhD

April 2017 IAABC Conference – "Animal Welfare Science – What's the Measure of Good for the Animal?" – Brian Burton & Sarah Fraser

April 2017 IAABC Conference – "Client Compliance and Implementation Strategies" – Dr. Christopher Pachel, DVM, DACVB

April 2017 IAABC Conference – "ABA in Practice" – Adria Karlsson

April 2017 IAABC Conference – "Medication for Cats & Dogs" – Dr. Lore Haug, DVM, DACVB

April 2017 IAABC Conference – "Aggression Case Studies" Michael Shikashio & Trish McMillan Leohr

February 2017 – "The Mental Side of Competition & Training" – Teah Anders, Gentle Touch Pet Training

January 2017 – NACSW/CNCA Joint K9 Education Conference Including:

"The Anatomy and Fluid Dynamics of Canine Olfaction" – Alex Rygg

"Body Language, What is My Dog Sniffing?" – Sue Sternberg

"Six Steps to Successful Scent Detection" – Roger Abrantes, PhD

"Quick Dog Food Fixes that Can Improve Performance" – Jill Cline, MS,PhD

"The Neuroscience of Canine Vision and Olfaction" – Andrea Thompkins, PhD

October 2016 – NACSW Competitive Edge, Handler Errors, K9 Nose Work from Foundation to Finesse – Fred Helfers, Penny Scott-Fox

January 2016 – K9 Scent & Detection Civilian Conference – California Narcotic Canine Association

August 2015 – The Relevance of Breed in Behavioral Consultation – Janis Bradley – PPG

August 2015 – Sound Sensitivities and Phobias – Caryn Charlie Liles, CPDT-KA

March 2015 – CNWI credential achieved from the National Association of Canine Scent Work

February 2015 – Nose Work for Shelter, Rescue & Special Needs Dogs – Jill Marie O'Brien – Pasadena Humane Society

November 2014 – Behavior Chains – Kathy Sdao, MA, ACAAB

September 2014 – Continued CNWI Certified Nose Work Instructor training course with the NACSW

August 2014 – Dog Aggression – In Depth – John Rogerson, Los Angeles, CA

August 2014 – Scent Detection with Ron Gaunt, Huntington Beach, CA

June 2014 –Continued CNWI Certified Nose Work Instructor training course with the NACSW

April 2014 – Shelter Symposium – Rescue Challenges and "No Kill" Model – Ohana Pet Hospital and VMSG

March 2014 – Trish King at Guide Dogs for the Blind, Fear and its Fallout, Aggression and Anxiety

February 2014 – CNWI Certified  Nose Work Instructor Course with the NACSW

February 2014 – Advanced non-food reinforcers, Concept Training, Mimicry and Handling Animal Mistakes – Ken Ramirez ASPCALA

January 2014 – Reality Bites: Understanding Dog Aggression Treatment Protocols – Pat Miller

April 2013 – Dog Bite Law – Ken Phillips

November 2012 – Science Based Dog Training (with Feeling)
Ian Dunbar, DVM, Ph.D.

October 2012 – Intro to BAT Behavior Adjustment Training
Grisha Stewart

June 2012 – A Weekend of Behavior & Beyond
Dr. Sophia Yin

March 2012 – Click to Calm
Emma Parsons

February 2012 – Use of Training Aids: Sense or Nonsense?
Kathy Sdao

November 2011 – Animal Acting: "Get Ready for the Set"
dog-ibox

October 2011 – Assoc of Pet Dog Trainers Educational Conference

Understanding, Assessing and Minimizing Fear in the Companion Dog
Suzanne Clothier

Understanding Reactive Puppies
Beth Duman

Through a Dog's Ear: Sound Therapy and Psychoacoustics
Lisa Spector and Joshua Leeds

Separation Distress: Both Sides Now
Nicole Wilde

September 2011 – Creative Ways to Save America's Dog
Association of Pet Dog Trainers

March 2010 – Helping Fearful Dogs
Instructor – Nicole Wilde, CPDT
Anxiety, Fears, Phobias
Fear Responses
Behavior Modification:  Keys to Success
Hosted by J9sK9s, Canoga Park, CA

March 2010 – Bite-O-Meter
Advanced Observations
Instructor – Sue Sternberg
Hosted by Puppyworks and The Inquisitive Canine, Ventura, CA

February 2010 – Dog-Dog Group Dynamics
Healthy Interaction and Aggression
Instructor – Sue Sternberg
On Leash Assessments
Safe Behaviors
Risky Behaviors
Hosted by Puppyworks and The Inquisitive Canine, Ventura, CA

June 2009 – Pet First-Aid & CPR
Instructor – Denise Fleck
Hosted by The Inquisitive Canine, Ventura, CA

May 2009 – Train Like it Matters:
Counseling Aggression & Training Execution
Instructors – Jean Donaldson & Janis Bradley
Hosted by Puppyworks and The Inquisitive Canine, Ventura, CA

October 2008 – Get SMART About Training!
See Mark And Reward Training
Instructor – Kathy Sdao, M.A., CAAB
Operant Conditioning
Reinforcement Schedules
Seeing Behavior: Filters
Hosted by Dogs of Course & Jump Start Dog Sports, Yorba Linda, CA

February 2008 – Saving Shelter Dogs:
Evaluation, Enrichment & Behavior Rehabilitation
Instructor – Dr. Pamela Reid, Ph.D., CAAB
Hosted by spcaLA

January 2007 – Clicker Expo
Clicker training for calm behavior
Clicker training with group classes
The Language of Cues
(Karen Pryor, Kathy Sdao, Emma Parsons, Ken Ramirez)

Fall 2006 – The Family in Animal Behavior Consulting
Instructor Lynn Hoover, MSW, CDBC
Family sytems theory
Roles of dogs in family systems
Relationship triangles

June 2006 – Dog Language:  The Evolution of Canine Social Behavior
(Roger Abrantes)
Hosted by spcaLA

October 2005 – Biting Dog Conference
(Sue Sternburg, Kenneth Phillips, ESQ, Wes Artope)
Hosted by Puppyworks.com/petworkshops.com

"His name is not wild dog anymore, but the first friend, because he will be our friend for always and always and always."
— Rudyard Kipling