By Bev Dalton
Until recently, the last place an animal lover like me looked forward to visiting was an animal shelter. The fear of overwhelming sadness or becoming emotionally drained by the sheer number of animals who need homes was enough to keep me away. Well that was then and this is now. "Welcome to Ventura County Animal Services Camarillo location!"
The first thing that struck me when I entered the animal shelter is how incredibly clean, and yes, even cheerful it is. Far from the scary, dark or dirty "pound" experience I had imagined, both kindness and cleanliness are top priorities. Love is the language spoken here, thanks to the concerted efforts of the shelter team to create a more positive and proactive environment that is conducive to placement.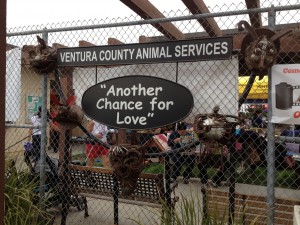 It takes a village to raise a child, but it takes an army to save a dog. Luckily, the Camarillo Animal Shelter has one. In addition to shelter staff, more than 450 volunteers support the adoption efforts in a myriad of ways. Dogs are given names and heartfelt, handwritten descriptions of each dog's personality are posted on their cages. Visitors can scan a barcode with a smart phone to view a recent video about a particular dog. Clean towels and bedding are stacked neatly in the cage areas. The exercise areas are filled with dog toys, and requests from potential adopters to view dogs move freely in these play stations are happily accommodated. In addition, proactive social media campaigns, foster, "Pet of the Week" programs and community fundraisers are operated year-round.
But no one tries harder than the dogs themselves to find their new forever families. "Please give me a chance!" "Pick me!" "I'll be good!" Through the desperate cacophony, these messages come through loud and clear, while noses and paws wiggle under and through the cage bars trying to get my attention. Every tail was wagging like a motorized toy, and everyone was talking all at once, trying to tell me their stories. Trying so hard to be all the adjectives I could ever want: cute, smart, gentle, playful – completely dependent on the kindness of strangers like me.
The committed and compassionate crew at the Camarillo Animal Shelter works tirelessly every day to place animals in caring homes. Your furry new BFF may need a little training, but he or she is ready and waiting for you at the Camarillo Animal Shelter.
Can you find room in your heart and home to adopt, foster, or volunteer? It's such a small price to pay for the absolute unconditional love you will receive in return.
To join the team call: 1-888-223-PETS or 805-388-4341
The Camarillo Animal Shelter is located at: 600 Aviation Dr, Camarillo, CA