Liver Cakes to the RESCUE!
Greetings dog lovers, you are my people, my tribe, my pack! By chance, are you vigilant about the ingredients in your dog's food and treats? Does the sound of a healthy, low-cost, easy to make dog treat perk up your ears? Do you like to cook and/or just make an unbelievable mess? Can you get over the smell of liver baking in your kitchen for the love of dog? If so, this little gem of a recipe might just take the cake! (The liver cake) that is!
Ingredients:
18 0z liver (Chicken or Beef)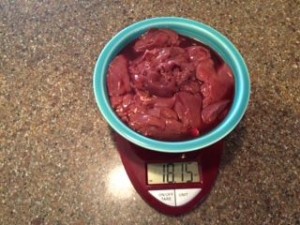 2 eggs
1 & 3/4 Cups Self-Rising Flour (sifted)
4 tsp garlic powder
Pinch Dried Parsley
Method:
Preheat Oven to 400 degrees
Spray a 13 x 9 baking dish with Pam (or cover a cookie sheet with foil and spray the foil with Pam)
Place liver into food processor and pulse a few times
Add eggs and garlic and blend until smooth
Place liver mixture into mixing bowl
Add sifted self-rising flour and parsley to mixing bowl.*
Place the cake dough onto greased tray or baking dish spread to about 2 cm thick
Bake for about 45 minutes. Insert a toothpick into the center to check for doneness.
Cool and then cut into little squares, appropriate for the size of your dog.
Portion into baggies and freeze unused cake treats for future training sessions. Refrigerate the bag you are currently using.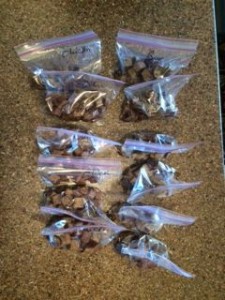 *Hint: don't try to add the flour to the food processor it will be really hard to clean! Trust me on this one. Just do the final mixing of the liver and the flour in a mixing bowl by hand.
Notes: It's messy but it's FUN!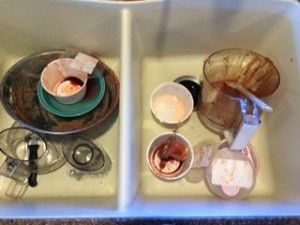 You can sometimes find liver at a discount in your local grocery store. The top two in this photo were less than $2.00! Plus I didn't use it all and froze the raw liver for the next batch.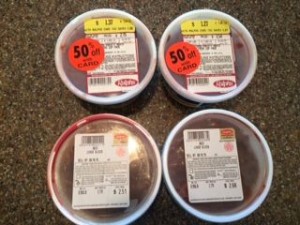 I usually double the batch since I'm making a mess anyway and I like to share the "bounty" with clients and doggie friends!
By the way, just about every dog I've ever met on the planet considers this treat to be what we trainers refer to as, "High Value". They are also great to work with because they tend not to crumble, yet you can still make the already cut pieces smaller as you work with your dog. Try these treats and let me know what you think!
Bon (Bone) ahem, "LIVER" APPETITE!